Multimedia reports for Continuous Integration at SeleniumConf UK 2016
The SeleniumConf 2016, Selenium's flagship event, was held from 14-16th of November in Central London and I was delighted to be invited along to speak, with my session titled, 'Distributed Testing and Test Reporting' all about the work I have been doing on automated testing with Alfresco for continuous deployment and integration.
I have been in the Test Automation field for about 3 years now in which I have mainly been working with Selenium and JMeter.
I have been working with numerous U.K Government Clients, including the Ministry of Justice, Department for Education, and the Department for Business, Energy and Industrial Strategy. I have been working with automated and performance testing and contributing to continuous integration.
Prior to this I have had opportunities to speak in various technical meetups and the most recent one out of them was the London Selenium Meetup, and a webinar covering the same topic.
I come from a development background, but I felt more inclined to test automation, as the industry is moving into automation, and the quality of the end system is key. Automation Testing needs to be done right with sophisticated techniques to produce better outcomes. I love to be part of this process.
My Talk: Distributed Testing And Test Reporting
My talk was held in the main auditorium after the keynote speeches, I spoke on the topic "Distributed Testing and Test Reporting."
The talk comprised of the use of Selenium Grid and how to distribute tests with the help of it. Then introduced Extent Reports and taking Screen videos using Monte-Screen-Recorder plugin.
It was a large audience almost close to 300 people in my track, who were very attentive and interactive.
The Selenium Conference: My Thoughts
The event started off with numerous workshops conducted by a few of the Selenium Committers and Contributors on the 14th of November 2016, which was followed by the Speakers' Dinner in OXBO, Hilton Bankside. This is where speakers were introduced to each other; it was a diverse group of people, most of them were from United States of America, and others were from India, Israel and Europe.
Some of the speakers were from Facebook, Mozilla, Google, Walmart, Wikipedia, SauceLabs, Thoughtworks, etc. As we met for dinner and drinks I encountered various conversations related to Test Automation and how each overcame technical challenges.
The conference on 15th commenced with an interesting as well as humorous keynote by Simon Stewart, Lead Committer, Selenium Project & Creator of WebDriver.
Other keynote speakers were Janelle Klein, CTO at New Iron, Founder of Open Mastery and Jason Huggins,Creator of Selenium and co-founder of Sauce Labs.
The conference included both technical and business presentations.
Selenium 3 was officially released with GeckoDriver for Firefox as Mozilla is changing internals of Firefox Browser. The original code powering Selenium RC has been replaced with something backed by WebDriver, which is also contained in the "legacy" package.
Appium also had talks about their latest release which was lead by Jonathan Lipps and Dan Cuellar. Introduction to StarDriver Enterprise.
Out of the many talks I attended, the approach used by Facebook-London's End-to-End Automation team was interesting. It was a great introduction on using 'fbsimctl'. They showed ways of how to collect diagnostic logs, record videos of test runs and fetch all of this valuable data over HTTP.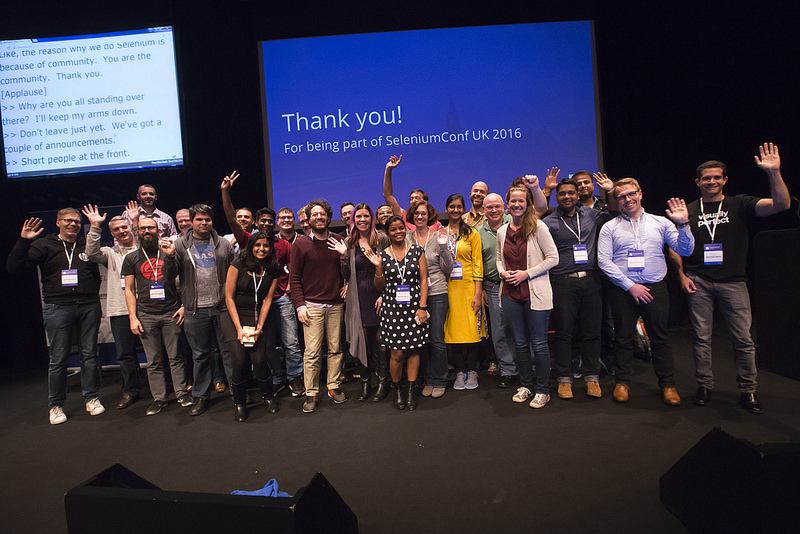 I found the idea of using all types of locators to grab the right WebElement without missing it out really innovative, which was delivered by the CEO of TESTIM.io.
Another talk I found really useful was on the use of Kibana and ElasticSearch to save test results. This helps us to retrieve historical test results which would be very useful and found it to be a very good approach.
Most of the talks were very innovative and had so much thought and experience in it. I felt very privileged to be part of such a strong league of speakers. The event was organised by White October and they had done a wonderful job.
Over all SeleniumConf UK '16 was a spectacular event with great ideas, wonderful organisation. It was a great pleasure to be part of it and hope that SeleniumConf'17 will be even more mindblowing. I am excited for SeleniumConf '17, Austin, Texas.
Latest content