Key takeouts from Alfresco Day
Here are the key takeouts from the recent Alfresco Day with my thoughts on the overall event at the end of the piece.
Making sense of Enterprise AI
Alan Pelz-Sharpe from Deep Analysis provided the keynote to set the tone for the day. Taking a step back from the hyperbole of AI, he spoke about practical AI and the benefits it offers organisations. Although AI is complex, it needs to be in the hands of business users to maximise its benefits not technologists, said Alan.

AI is making headlines in the mainstream, yet other than being able to access lots more computing power and lots more data, not a lot has changed in several decades. The computer still has no moral compass and still does what it's told.

We've all heard nasty stories about AI bias but that's not where we are today, said Alan, adding that we should get back to thinking about practical AI, such as the automatic classification of form submissions.
Alfresco Product Keynote
Tony Grout (CPO, Alfresco) and Brian Remmington (CTO, Alfresco) gave the rationale and background to the various product announcements.

Brian described the challenge as one where everyone has access to technology. What's needed is to build a well-oiled machine that converts ideas into value. That machine is the purpose of an organisation's IT department.

The strategy underpinning all Alfresco product architectures, he said, are security, reliability, scalability, usability and extensibility. The most important being usability, he added, quoting Klaus Schwab:
"Shape a future that works for all by putting people first, empowering them and constantly reminding ourselves that all of these new technologies are first and foremost tools made by people for people."
Brian reflected on the different types of users that Alfresco is targetting: end-users; operators; developers. He said for each usability is key. For example, it's no use trying to get a Python developer to use Java. At the end of the day, usability has a lot in common with familiarity.

Tony believes Alfresco is a complete Digital Business Platform. Alfresco is known for the 'core' services of Content, Process and Governance. But deployment, connectivity and the higher value usability and machine learning are covered too.
Previewing Alfresco Cloud
The premise for Alfresco Cloud is that 80% of customer costs are in the infrastructure. And Alfresco wants to give that 80% of your money back to you — bold!

Working closely with AWS, they have created a dedicated team to support this offering. The clear message is "Who could do it better?"
Product manager announcements
These were done quick-fire with each person given ten minutes to recap recent progress, outline current announcements and paint a future vision.

Alex Lee – Alfresco Content Services
The key message from Alex was the introduction of Azure support, aiming at feature-parity with AWS support. He had some interesting numbers. Previously AWS was the only game in town but now they are seeing AWS at 65% with Azure catching up at 18% and all others contributing 17%. Whilst cloud computing is significantly cheaper than traditional models, and you only pay for what you use, Alex made the point that near-line storage and file compression can still contribute significant further savings.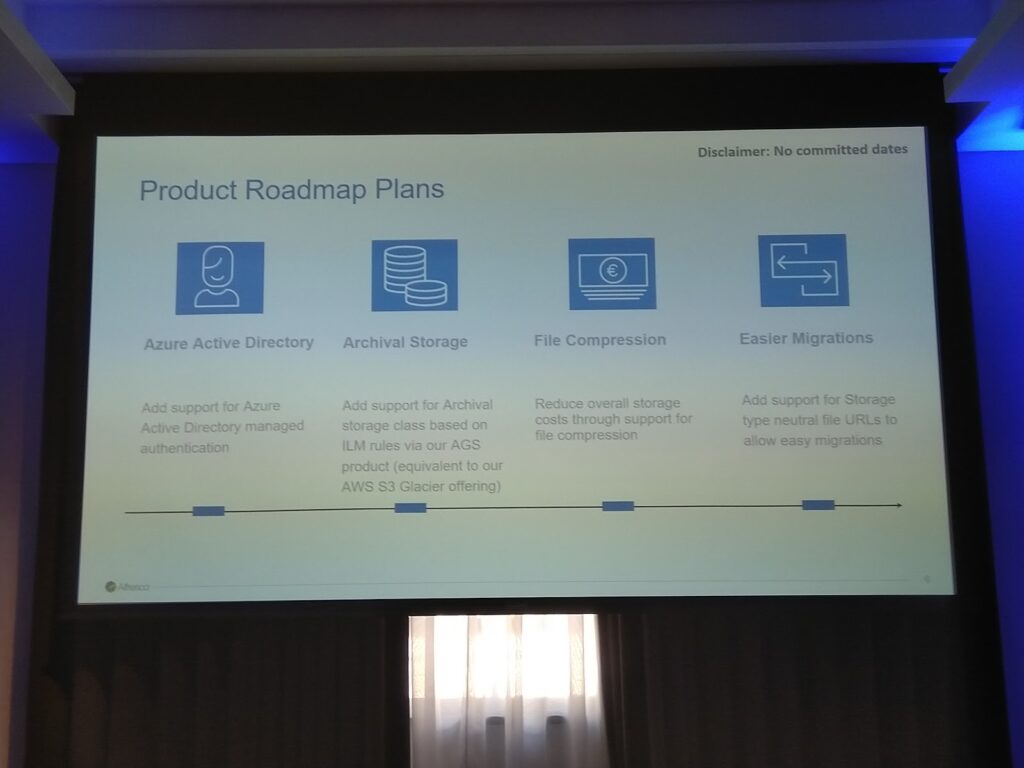 Preeti Nirwal – Alfresco Intelligence Services
We continue to generate ever-larger amounts of data, said Preeti. Around 1.7Gb per person per day was the statistic that stuck in my mind. And just 10% of that is structured data. We all know that unstructured data is notoriously hard to use effectively, so Preeti argued even getting insight into 10% would be a dramatic improvement. That is where Alfresco Intelligence Services comes in.

Raphael Allegre – Alfresco Process Services
Raphael spoke about the importance of de-coupling Process Workspace from Alfresco Process Services (APS) so that each can evolve independently as well as the recent launch of the brand new Identity Service. But he devoted most of his time pushing the message that this platform is a very powerful and easy-to-use application development platform. As summarised in the slide below from initiation on Slack through integrations with Alfresco (content), Twilio (phone), Amazon services (image analysis and optical character recognition) as well as other in-house services, he said APS can do it all. And Raphael indicated he did this in one day with only a little help from a couple of colleagues.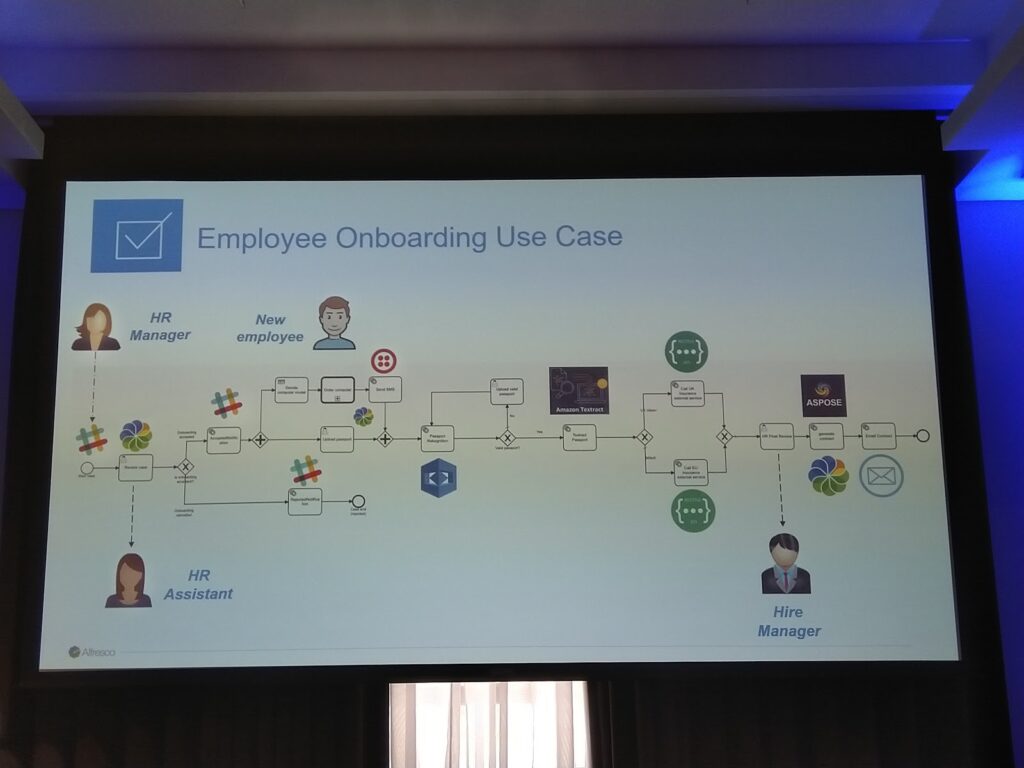 My take…
I liked the prominence given to customer stories. On the whole, they did reinforce the message of being a complete offering, though experience suggests that those projects also require an amount of frantic paddling beneath the surface to maintain the appearance of smooth progress.

Unfortunately, the bold statements about cloud did begin to ring slightly hollow with the statements that this is 'previewing' today with the rollout starting in the US 'later in the year' and Europe 'in due course'. I guess that's common enough for software conference announcements so perhaps we should give them a bye.

The specific product announcements of feature-parity for Azure with AWS will certainly be welcome to those for whom they are relevant. And I personally liked the direction indicated by Raphael towards low-code apps that really are not even as complex as some of the stuff I have seen in Excel – and much more transparent and maintainable.
Again, a note of caution on this, he stressed this is an experiment, not committed product direction, which is quite something given that even the 'official' products came with the inevitable caveat that no dates are committed.
Related content