Party like it's 2020: What we did for our virtual office Christmas party
For obvious reasons, we haven't been able to party like we normally do this year. And our office Christmas party in 2020 has been no different — it's been virtual! So, how did we create the same buzz, excitement and team culture doing it remotely?
Traditionally, throughout the year, we have a wide range of events — charity events, sporting activities, quiz and games nights in the office, Friday drinks etc. And then we have our major events of the year, the annual team-building trip away (which has become legendary) and a big social event for the most wonderful time of the year.
This year's been very different. We haven't had any of the big team-building trips for obvious reasons (we were lucky that we could move the event to summer 2021, and we are all looking forward to that – fingers crossed!). But we have managed to continue doing charity events, quiz/games/drink evenings etc. — albeit all virtually.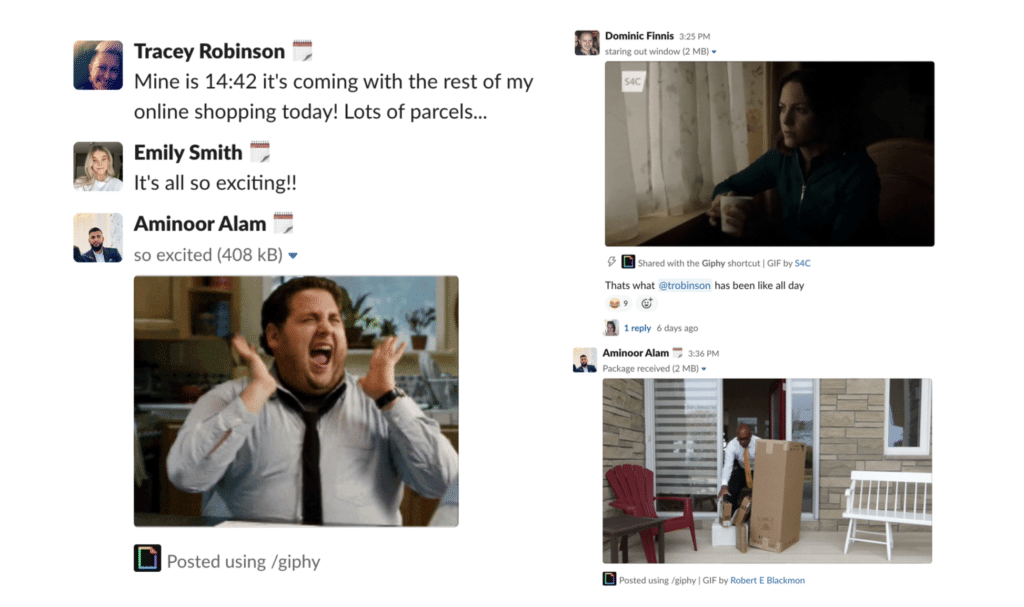 It's beginning to look a lot like Christmas
Although these events have been well received, we wanted to create a bit more of a 'wow' factor for the Christmas Party.
I was dubious to start with. With cold December nights on the way, would people be excited enough to want to attend another video call at the end of the week? We had to make it different.
As with most of our big events, we try to keep things a secret so it's a nice surprise. We told everyone they'd be receiving a special delivery prior to the day of the event. We shipped out Fortnum & Mason hampers to all our employees.
The heads up created a lot of anticipation – and the buzz started on our Slack channels.
Santa Claus is coming to town
The man with the bag had already delivered some hampers, and people were finding it difficult to contain their excitement, as others sent giphys of waiting patiently for the delivery. The fun had started, and everyone was getting excited about the party.
Everyone was super pleased with the hampers, and photos were sent of them being opened, adorned with kids, dogs and one with a new baby (very manger-esque — it definitely won for cuteness!).
People started sharing their hauls on LinkedIn and we got lots of great comments back.
Rockin' around the Christmas tree
On the day of the event, the chatter started early in anticipation of the afternoon festivities. Some had started eating the contents of the hampers already – but hey, it's Christmas!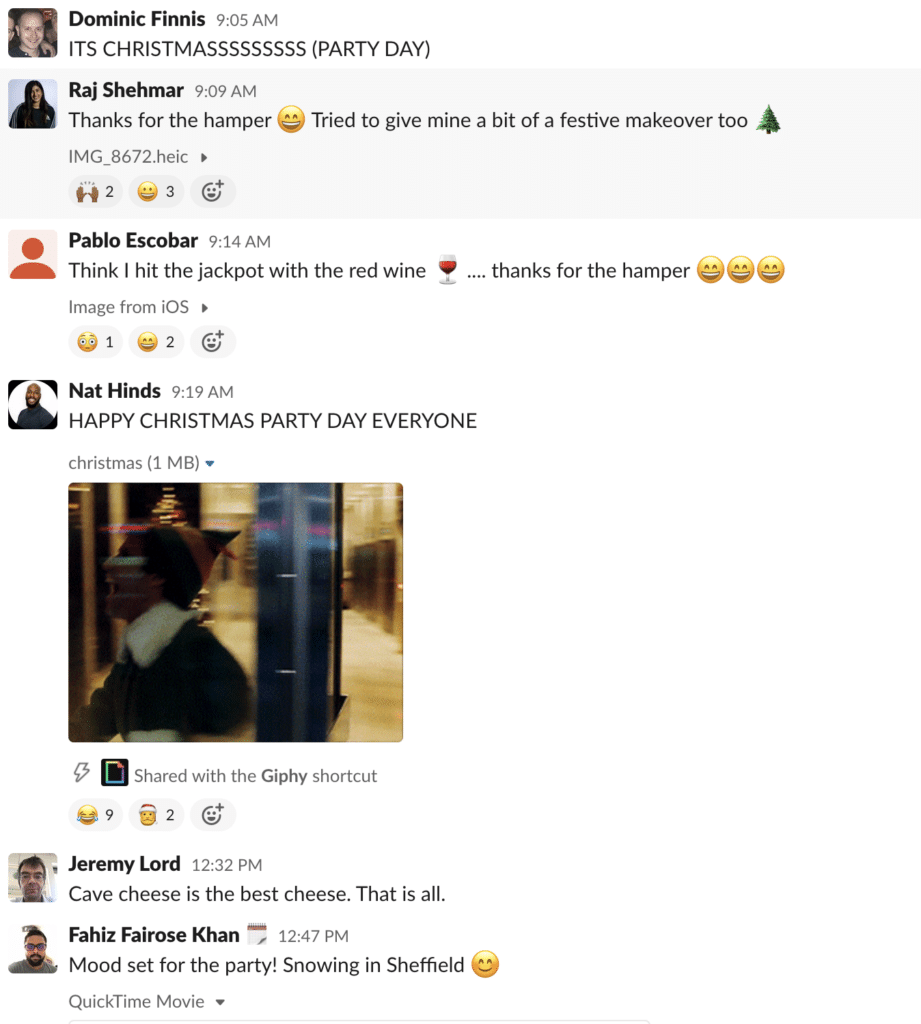 Three o'clock, and it was time to step into Christmas! I sat watching the numbers increase as people joined the virtual call. Our parties are not compulsory. We value people's individuality and are happy for them to participate as much or as little as they feel comfortable. But I was impressed with the turnout and excited to see that pretty much everyone joined! The buzz beforehand clearly made an impact.
The first part of our event was a Murder Mystery hosted by Moonstone Murder Mysteries. It was a huge success and the team from Moonstone did a fantastic job of keeping everyone engaged and having fun.
We then moved to the light-hearted Zaizi Awards ceremony — it was clearly not going to be a silent night! Nominations and votes had been collected earlier and prizes were given for categories such as:
MacGyver Award – someone who's always fixing things!
Rookie of the Year Award – a new employee who exceeded all expectations
Best Comic Award – an employee who's always up for a laugh

As we moved into the evening, we still had quite a few people wanting to stay online to chat, drink and play some online games.
We can't have a physical Christmas party, so we're having a virtual one instead!

Food thanks to the hampers we were sent, an online murder mystery event, the Zaizi awards and more….! pic.twitter.com/pzN5wFOibI

— Zaizi (@Zaizi) December 4, 2020
We wound things up by 7pm — it was almost 4 hours of wonderful Christmastime. And no chance of missing the last train home from London was a bonus for me!
---
A question that's come out of this pandemic is how do you foster a workplace culture when working remotely? For us, it's been important to go that extra mile and keep people happy, and get them involved in lots of different ways. And I think this event has shown that a bit of lateral thinking, tenacity and good old fashioned enthusiasm, can create the same magic as a physical get together.
A big shout out needs to go to Martine, our office manager, who helped coordinate and arrange everything!
(Bonus points if you spotted any Christmas song titles in the blog!)
Related content