The pros and cons of working from home — and how we're making it better
It's nearly three months since we started working from home (WFH) full time due to the Coronavirus. So what's been the pros, the cons, and what more can we do?
As a company, we've been working from home since last year. We undertook a discovery exercise on ourselves last year and found the team liked to have the flexibility to work remotely a few times a week.
So when we decided everyone should WFH full time due to the current pandemic situation, it wasn't a big shift for us. We put in place guidance and processes to help people make that shift full time — especially for those that preferred coming into the office.
And although we've been regularly communicating and having dialogue with the team, we felt we had to do something company-wide to learn more about remote working.

Undertaking a retro
We do retros, a practice used by teams to reflect on their way of working, on all our projects. We thought it'd be good to do one on remote working. So we spent an afternoon doing a company-wide retro to help surface what we could do better.
We wanted to engage the whole company and get feedback from the team about:
what's working
what isn't
new ideas and ways to improve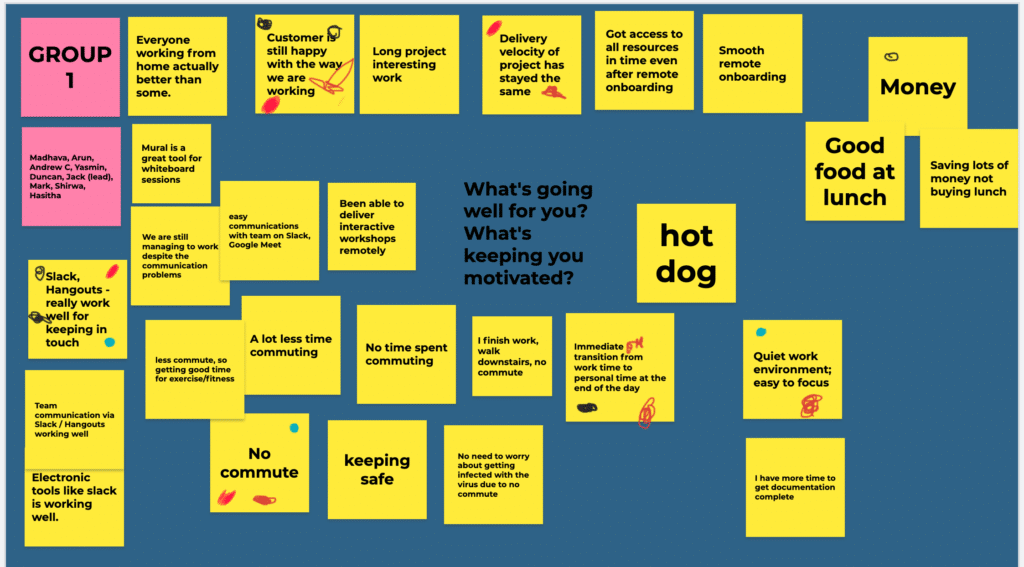 We have over 50 employees and everyone took part. It was especially important for the senior leadership team to get involved and hear what everyone was saying.
As you can see from the main image, it wasn't all seriousness as we tried to lighten things up whilst dealing with the task at hand.
What did we learn?
It was an open and honest conversation. It allowed the team to share knowledge and support each other to find better ways of working.

Here are some of the things we learned: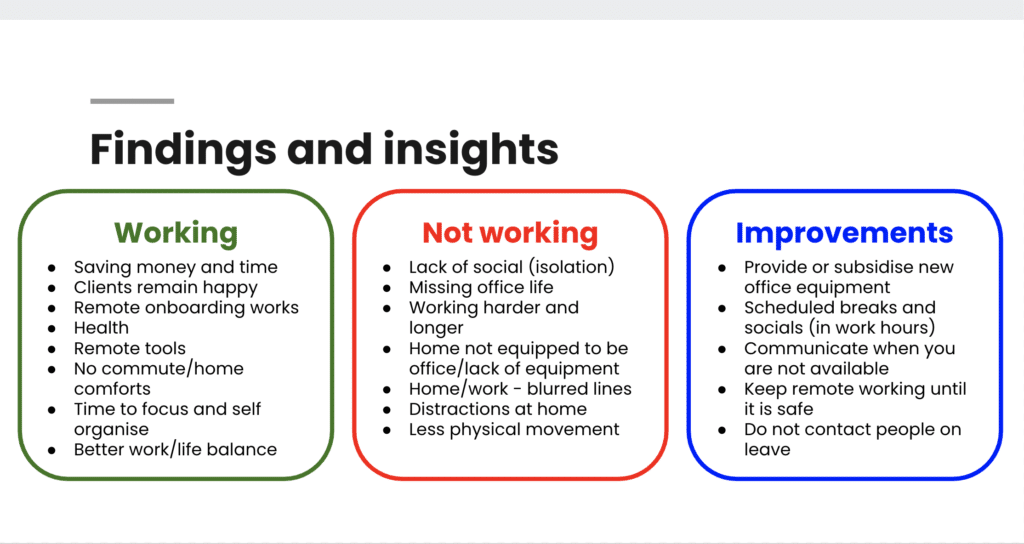 Overall feedback from the team was they liked the retro; it was helpful and showed Zaizi was keeping to its value of continuous improvement.

What's the outcome?
Now, we're in a better position to figure out how to help make WFH easier for the team.
So for example, one of the big things to emerge was the lack of office equipment. We decided employees can expense any office necessities (like chairs, tables, monitors etc.) to make working from home better.
Other things we're doing include:
updating our remote working guidance/reminders of WFH best practices
having more socials (within office hours)
recommending/providing slack apps
having a wellbeing buddy system
encouraging people to take breaks/disconnect completely when on leave

It's important, especially during this testing time, that organisations look at how they can make the lives of their employees easier.
Having happier and healthier team members — aside from the obvious benefits in productivity — is just the right thing to do.