Why we're saying what's OK
At Zaizi, it's ok to be you. We don't think you should have to compromise on who you are to get on in the workplace.
Is it OK to…
… decline meetings?
… say you don't understand?
… not to be ok?
Well yes – at Zaizi, it is! During the past year, we've been particularly mindful of the wellbeing of our people.
We're working remotely full time for over 15 months and we always look at ways to make the working environment more inclusive and open — particularly for newcomers.
In a pre-Covid era, new joiners quickly picked up the mood and culture of the workplace by being in the office. But how can we give newcomers a window into how we do things at Zaizi when everything is remote?
That's why we came up with the 'It's OK' poster.
Our 'It's OK' Poster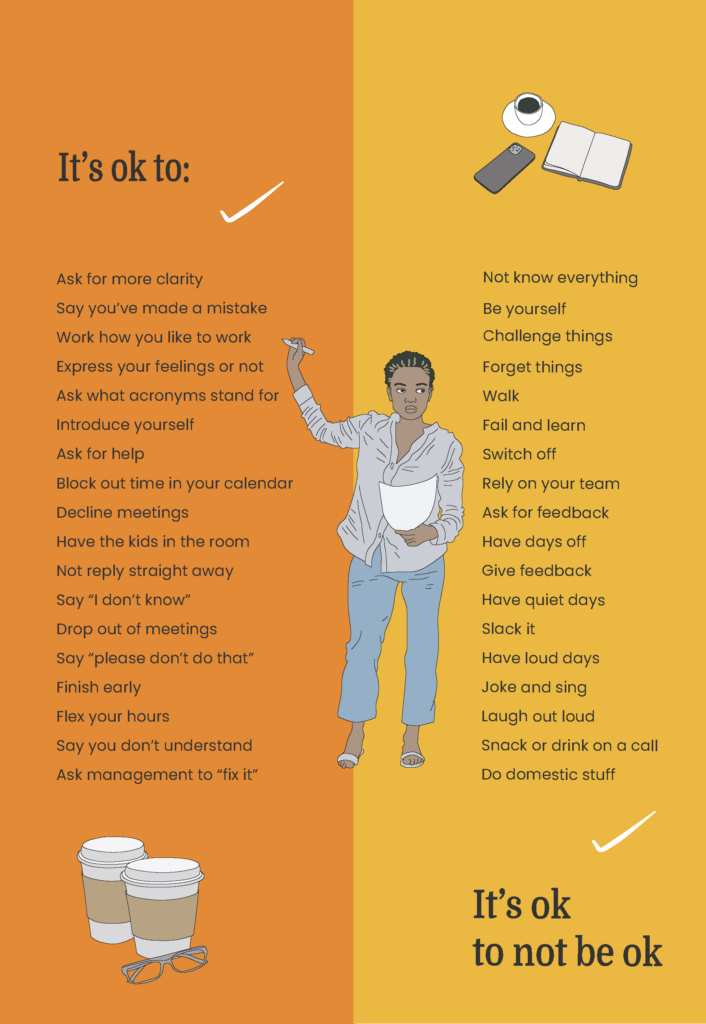 Inspired by what GDS did a few years ago, we felt a poster explaining what is OK to do at Zaizi will give newcomers, and anyone else who needs reminding, an idea of how we work.
We have a robust induction process but felt something like this would help get across some of those unsaid things.
Listening to our people
As an organisation, we make sure that we listen to our employees and improve our ways of working to keep everyone healthy and happy.
We've held a few retros over the past year with the whole company. It gives everyone a voice in improving the way we work.
And it's from these retros that the idea of the "It's OK' poster came about. We collaborated and discussed a list of suggestions and voted on the most popular ones.
This isn't an exhaustive list. As with the way we work, we'll look to iterate and add to it in the future as we get more feedback from everyone.
Related content