Zaizi's apprentices shine with award nominations, recognised by Prime Minister
Zaizi and its apprentices have been making headlines over the last few weeks, nominated for awards alongside renowned organisations like Google, IBM, and DWP Digital. Our apprenticeship programme even caught the attention of the Prime Minister.
During National Apprenticeship Week, Rishi Sunak drew attention to the outstanding work that we and other organisations are doing to promote apprenticeships — and he specifically featured one of our apprentices, Rahat.
"Apprenticeships are often seen as a less traditional way of entering the work force, but they provide a unique opportunity to earn while you learn. This is exactly what Rahat Ahmed, currently a Cloud Engineer apprentice needed," said the PM in a LinkedIn post. 

"Rahat was always passionate about tech but he needed to earn money to support his family. Thanks to the Zaizi apprenticeship he's been able to do both. Rahat is trusted to work on major projects which has given him a real confidence boost both in and out of work," he added.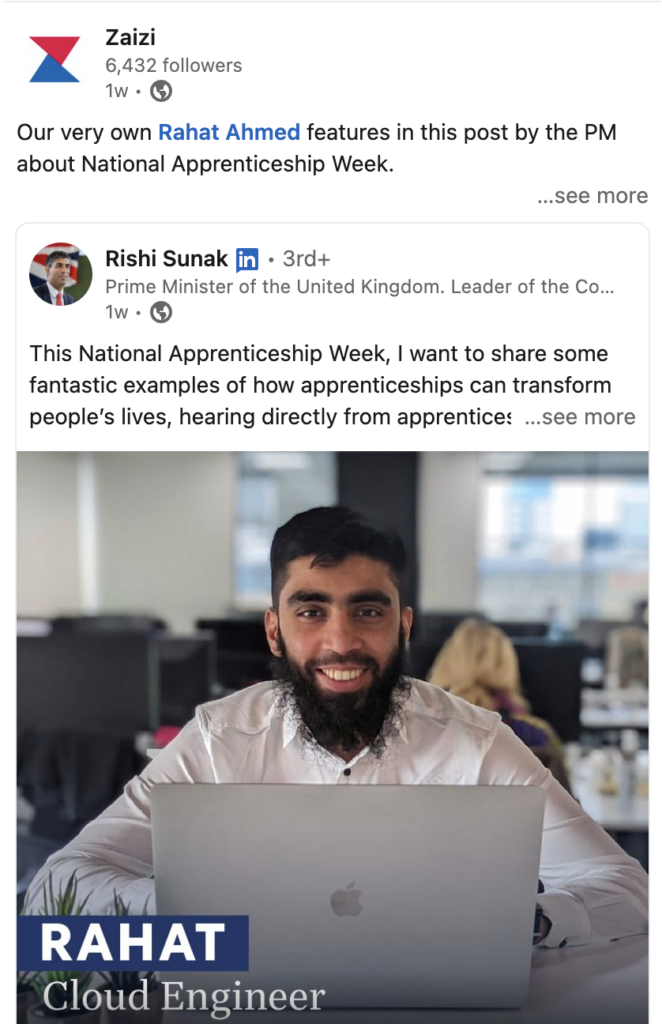 Rahat is also a finalist for the DevOps Rising Star of the Year award at the Computing DevOps Excellence Awards. He is competing against candidates from IBM and Centrica.
The DevOps Excellence Awards is highly respected in the industry as the premier recognition for excellence in DevOps.
Meanwhile, in the inaugural 2023 Makers Apprenticeship Awards, our team received six nominations.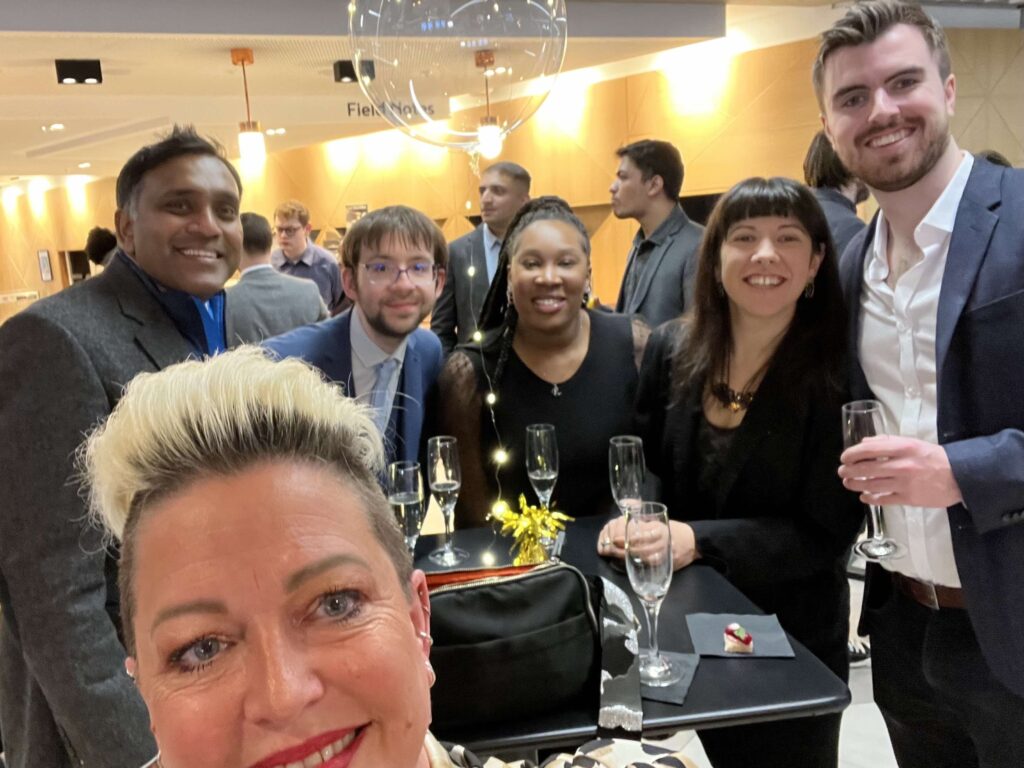 Zaizi was runner-up in the Diversity Champion category and a finalist for the Employer of the Year. We were up against tough competition, including Google, Compare the Market and public sector leaders like DWP Digital.
For the individual awards, our apprentices Maria-Eleni and Renae made it into the final for the Rising Star category, while two senior staff members were nominated for Line Manager of the Year.

Finally, we also featured in TechUK, which highlighted the positive impact our apprenticeships scheme is making.
Investing in talent
Tracey Robinson, Zaizi's Chief People Officer, said: "Investing in junior talent through apprenticeships not only addresses the skills gap in the tech industry but also helps us bring in diverse talent.
"We started our apprenticeship programme in 2021 and have since seen its integral role in our growth.
"We provide the apprentices with valuable work experience, challenging projects, a supportive culture, and opportunities to advance their careers. They have taken a proactive approach to their learning, challenging themselves and even designing a programme to support new apprentices joining our Zaizi.
"We're proud of our apprentices' achievements and thrilled to see their talents not only shine but also receive recognition."
READ: Tech apprenticeship – A change of career direction at Zaizi
Our apprentice scheme
We collaborate with Makers Academy and Founders and Coders for our apprenticeship programme. Upon completing the bootcamp, new apprentices pair with a mentor.
The apprentices learn by shadowing their line managers and other engineers. They also take part in tasks, client meetings and presentations.
They have access to various online training courses to further their skills. We encourage them to take on as much as they are willing to learn while providing guidance and support.
We want to positively impact society. And we do this by recruiting people from underrepresented backgrounds.
Most of our apprentices are women. Our cohorts include working mothers, career changers, and people who've come to this country as refugees or migrants.